The Canyon Matka is located along the Treska River, 17 km southwest of the Macedonian capital Skopje! An excellent place to get away from the noise, the city chaos, and especially from the heat during the summer. Here in the past were found  more than 80 monasteries, but today there are only four. There are 119 kinds of butterflies.
The best hidden treasure of the Canyon Matka, however, are the caves. There are at least 10 of different sizes into the canyon. The most famous is the cave named Vrelo, also known as "the cave without end", because the explorers came up to 159m and have not yet managed to reach the lowest point of the cave.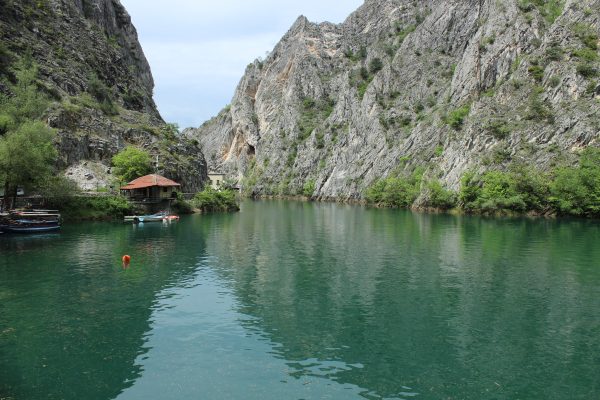 How to arrive?
You can reach the canyon by public transport or by car, every day there is a bus leaving from the bus station, the number 60, which costs around 0.50 cents. The bus arrives at the Canyon in an hour, and leaves from the station almost every hour, but to be sure it is always better to consult the public transport site http://www.jsp.com.mk! For those who go by car should follow the signs to Tetovo, the road is good to go by bike, there are no big climbs.
What to do?
Once in Matka, you can choose what to do, visit the churches, trekking, kayaking, visit caves, swim (very cold water) or just sit at the restaurant, eating and enjoying the beautiful scenery around. (There are a couple of restaurants where you can eat well, except that the prices are a bit 'more expensive than those in the city).
During the summer and when the weather is nice you can rent a kayak and go around the lake, kayaking costs 3 euros for one hour. You can also go and visit the Vrelo cave, the boat that bring you there costs around 5-6 euro. For those who want to spend a night at the Canyon and wake up surrounded by nature, there is a hotel, you can check the price on booking. However I recommend you to take a bit of food unless you want to spend a lot of money in the restaurant which is located on the Canyon.