Cambodia is the second country that we visited in Southeast Asia. It offers a lot of interesting places to visit, but still the most famous is Angkor Wat. You will have a really unique experience walking between the temples that are everywhere around, even through the huge roots of the trees. As you move from one temple to another, you will suddenly get lost through the jungle, where you can see some elephants or little monkeys.
How to get there?
If you go to Cambodia by yourself, then you should definitely catch a flight from Europe to the Cambodian capital of Phnom Penh and then to Angkor Wat. And if you make a trip through Southeast Asia and decide to travel from Vietnam to Cambodia, then there are several ways to get there. The first way – a plane, but it depends on how much money you want to spend. We decided to fly from Siem Reap to Hanoi and the ticket was about $90 one way, so it's not really the cheapest one. But you also have a several buses from Saigon to Siem Reap, or from the southern part of Vietnam, from Ha Tien the price is about 20 dollars one way. But be careful, it's a long trip, if you leave Vietnam early in the morning you'll arrive at Siem Reap late in the evening.
Transport – some more useful informations
The most crazy thing was that people were lying a lot. At the reception where we bought out bus tickets, we were told that the bus was going straight to Siem Reap and that we should be there around lunch time, but only after we crossed the border and after some hours of driving, the driver left us in another city and he told to wait there for another bus. After some time we catch another bus and this one left us in Phnom Penh, where we were told to wait in one travel agency, then in another and in the end finally we catch the last bus that was supposed to bring us to Siem Reap. We arrived at Siem Reap around midnight. Unfortunately this is the reality and better to stay calm because getting nervous you will not change anything in this countries
My advice for everyone who has more time is to stay at least one night in Phnom Penh, the capital of Cambodia, that is becoming a very modern city even if there is not much to see.
Another tip I read everywhere and everyone told me the same thing is that you should avoid traveling at night in Cambodia, because they drive like crazy and very often accidents happen. We had a chance to see their way of driving even during the day, I don't want to imagine how is at night.
Visa?
For some border crossings you can apply online, and for some it must be done on the border. The visa on the border will cost you $35 for one entry, if you have an international health card it will cost you one dollar less.
Where to stay?
Siem Reap is abundant with beautiful hotels, the price is so low that anyone can afford a hotel accommodation, the same thing also for Vietnam. We decided to stay in Le Chantou Boutique Hotel, we paid 15 eur per person per night with breakfast included. The place was really nice, with an outdoor swimming pool and nice green area. The staff was just wonderful and very kind. They welcome us with apple juice and fruit.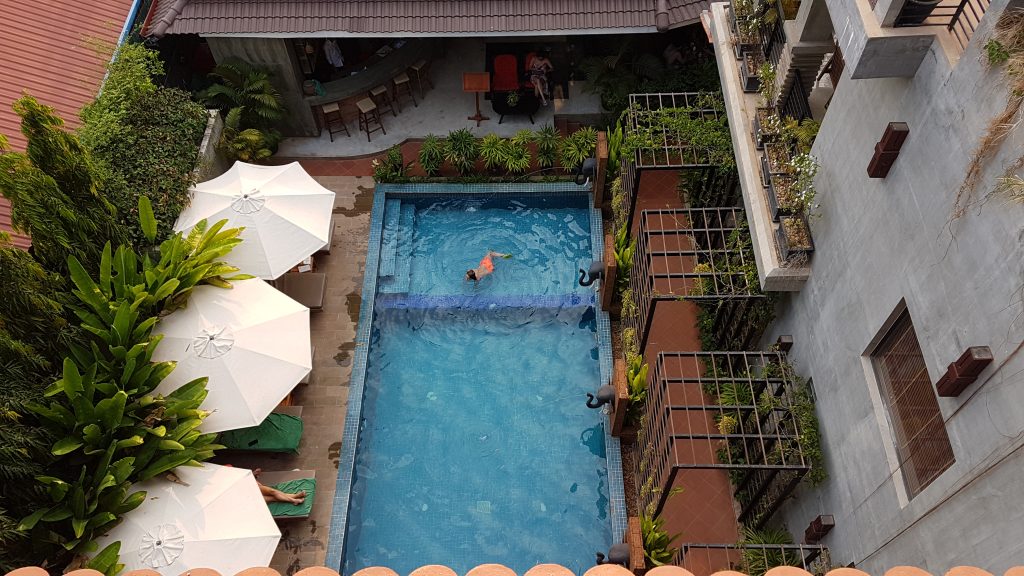 What to do?
Of course the first reason why everyone comes to Cambodia is Siem Reap and  the visit of Angkor Wat. The largest complex of Buddhist temples in the world. A few important info for Angkor Wat: a one-day ticket will cost you $37, three days $62, and weekly $72 , of course if you stay more than a day take it for three days or a whole week. The ticket will also have your photo on it so keep it carefully because you will need to show it all the time when you visit different temples.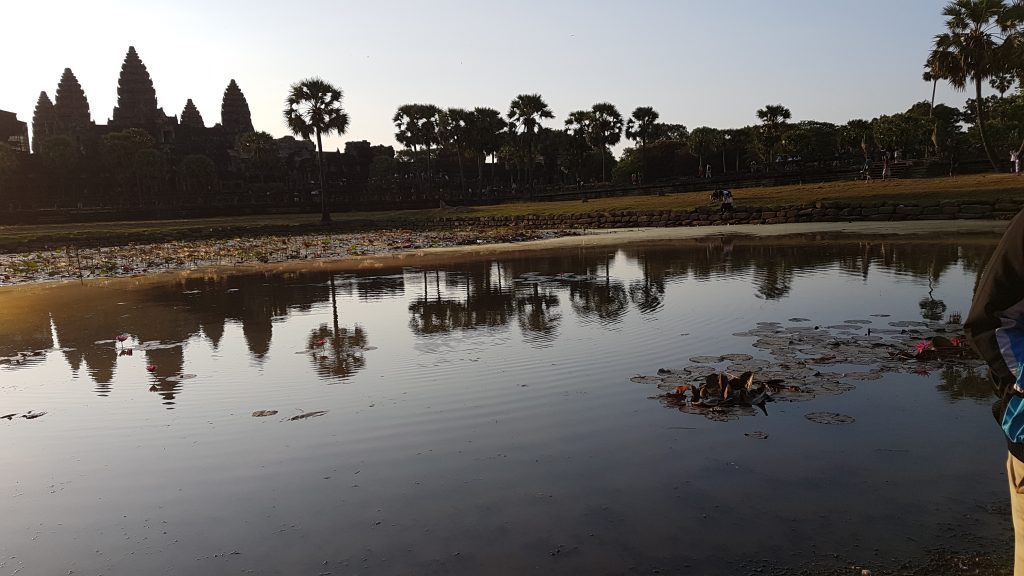 Another important thing in Siem Reap is to find a tuk tuk with good driver. It would be very helpful if you find a driver who speaks English so you will not need a guide. To rent a tuk tuk for the whole day will cost you 15 dollars.
It is very important from the beginning to know what you want to visit so you can make the route together with the driver. A tip that many people will give you is to start the route from the opposite side, avoiding the big crowds. For example, if everyone starts the day from Angkor Wat, go and start from the furthest temples and at the end you will end up with Angkor Wat. Another advice is also to go to see the temples only early in the morning, in that way you can have your lunch by the pool, avoiding the hottest time of the day. Siem Reap is super humid and warm, especially when you are outdoors between the temples.
Do not forget to get decent clothes, in some places you cannot use the trick with the scarf around you, you must have long sleeves!
In three days we managed to see the biggest temples: Angkor Wat, Bayon, Pre Rup (good especially during sunset) and Ta Prohm (where Angelina Jolie was filming Tomb Raider)
Angkor Wat was built by the khmer king Suryavaram II and was dedicated to the Hindu god Vishnu. Over the years, Hindu temples have given place to the Buddhism, and some of the temples even today are still used by Buddhists.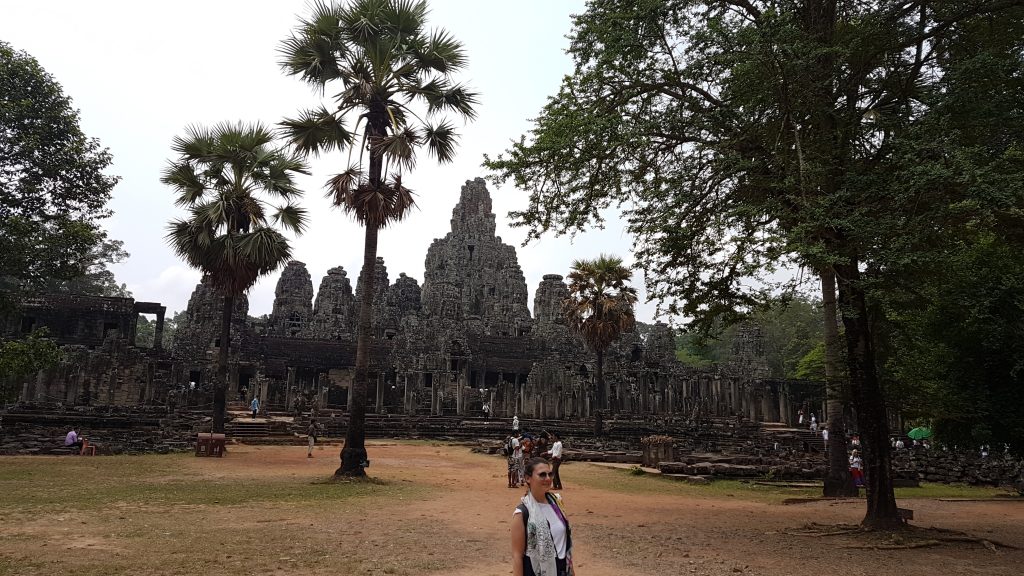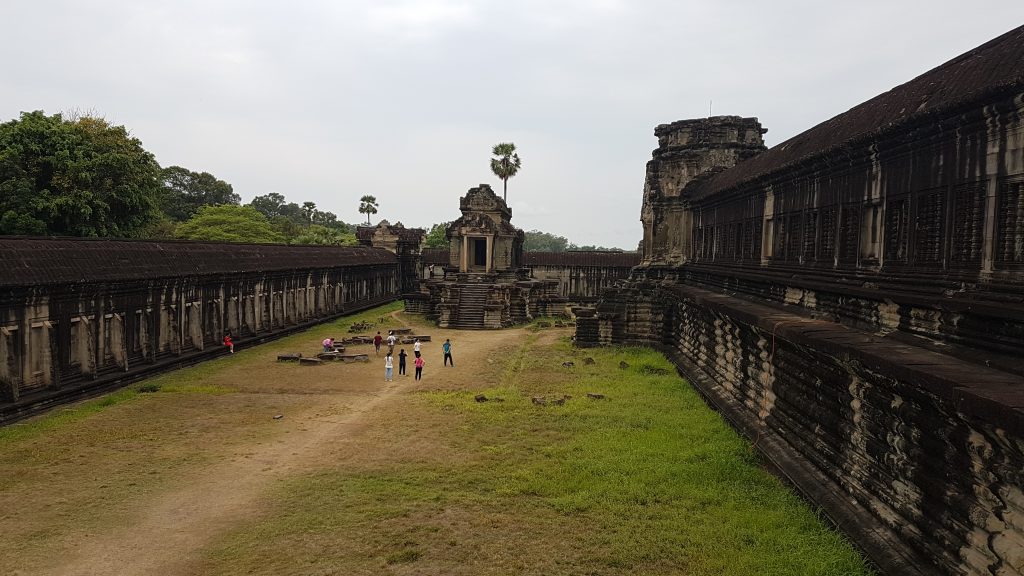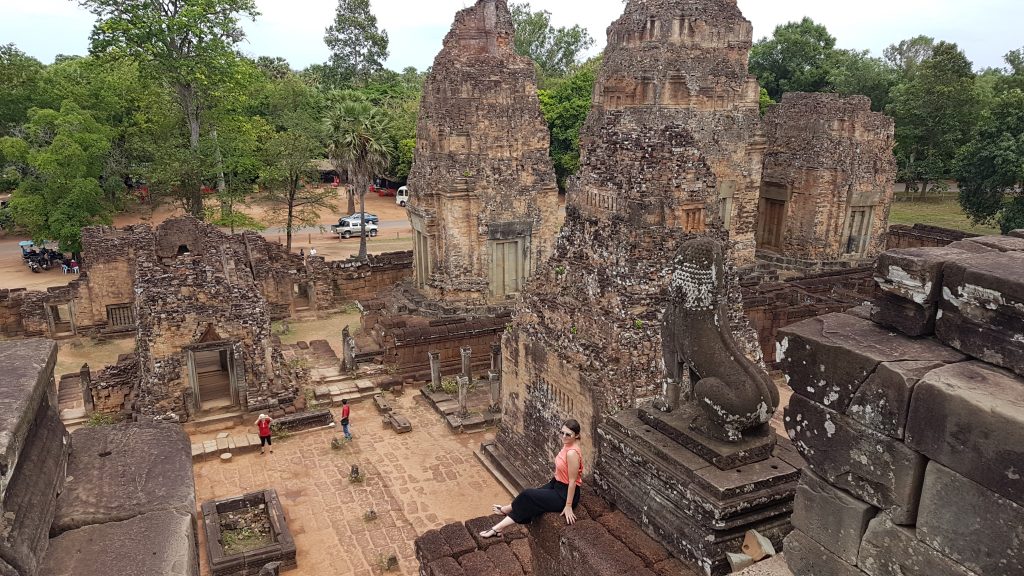 Something you should not miss is the sunrise of Angkor Wat. Get up really early and already at 4am or 5am be there to find your place close to the water. We did not believe there would be so many people, but it was really crowded. The best spot for nice photos is beside the big lake, because there is the reflection in the water and the view is really special. When you explore Angkor Wat, do not forget to stop for a minute and be blessed by a Buddhist monk who will tie you a red bracelet for a good luck and you can give a donation.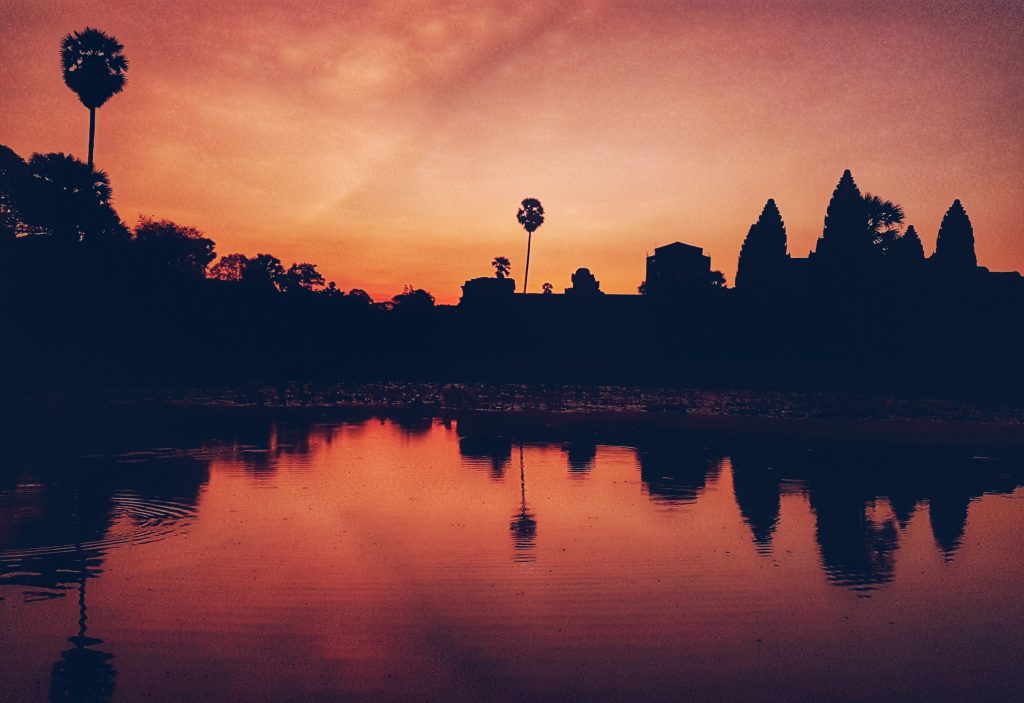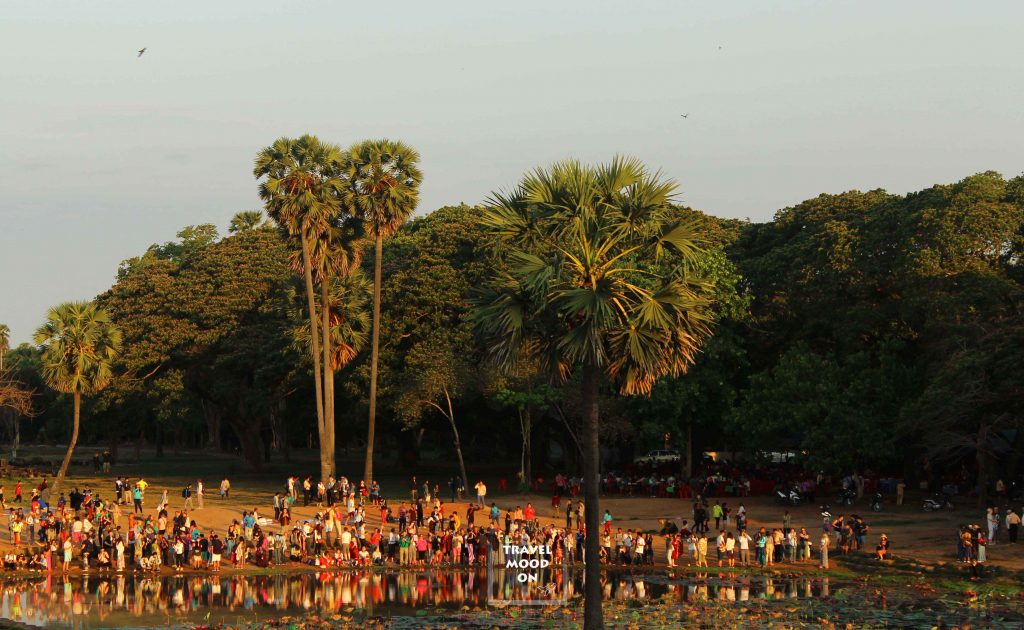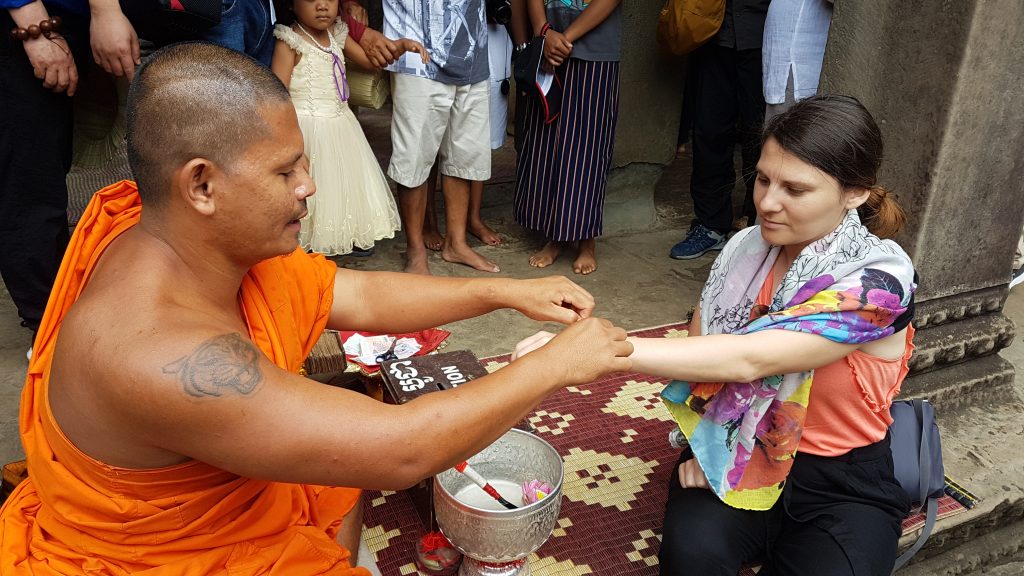 When you will get tired of temples, then it's time to visit the Pub Street, full of bars and restaurants and the best nightlife in Siem Reap. If this street is not enough for you, then go to the nearby night market and do some night shopping of traditional clothes or taste some insects.
Siem Reap really surprised us with many unique bars and restaurants, and here we also felt the influence of the Australians and Europeans who are starting their business in this city. But in the end we left Cambodia with lots of nice memories, first of all because of the hospitality of local people, and second, because of the unique experience of  Angkor Wat.