Fez is a nice and charming city that really worth a visit. Fez was the first capital of Morocco, Fez is a major culinary city in Morocco, Fez has the largest and oldest Medina in the world, Fez has the oldest University in the world, in Fez was opened the first psychiatric hospital. The new and modern part of Fez is full with interesting new buildings, palm trees and shopping malls, while the old part and the Medina for a moment will take you to another world, another past-time where you can still feel the spirit and tradition of Morocco . Just get lost in the narrow streets of the Medina and explore – smells, colors, flavors, people, animals … In these narrow streets often locals move with their donkeys and horses. Everywhere people are offering to take you to the place you are looking for, of course for money, but if you are persistent like me and if you have some more free time do not worry, you will find what you are looking for. Shops for leather, shoes, food, almost everywhere you will find fresh orange juice sold for about 0,50 cents. On the market where they sell food you will find heads and body parts of all animals, chickens waiting to be slaughtered, baklava and other typical sweets that look really tempting. Locals know to be really pushy and annoying, but if you ignore them you will not have problems.
How to arrive:
The best and most convenient way to reach Morocco is with the low cost company Ryanair or EasyJet from some European city. We were flying from Milan to Fez and come back from Marrakesh to Milan, with Ryanair, the return ticket was around 60 euro 
What to see:
–The blue gate Bab Boujeloud– the most famous gate in Fez that you can find on the entrance of the Medina, one side of the gate is blue the another one is green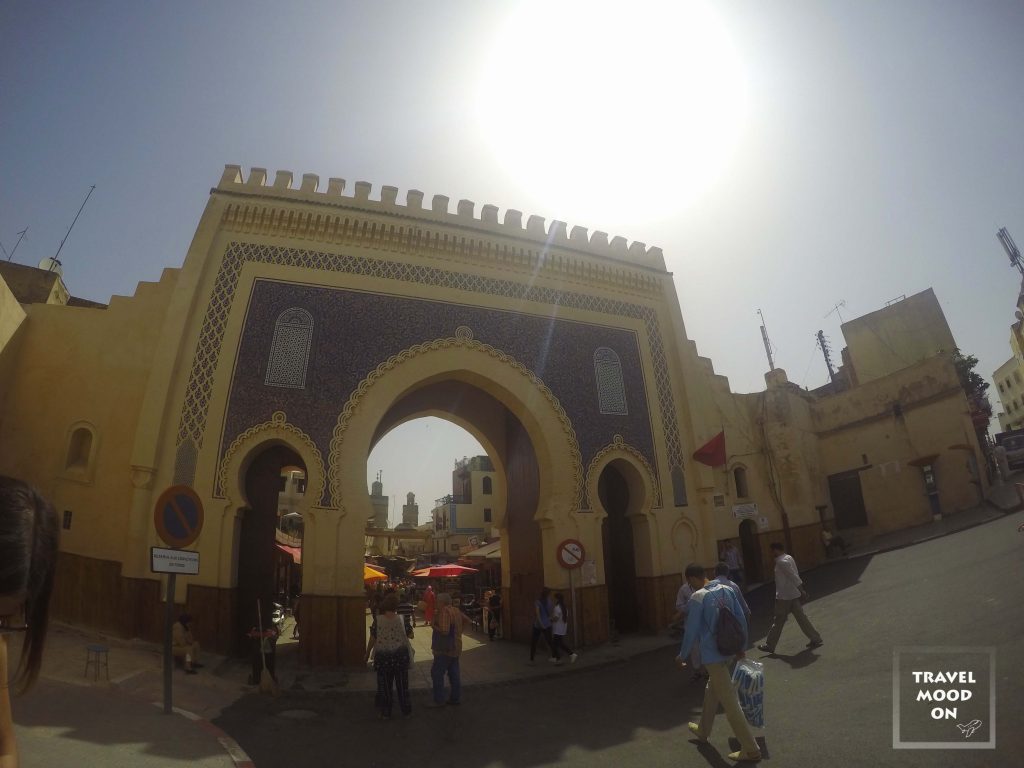 –Medina – the oldest and the biggest medina in the world, protected by UNESCO, there are 9400 small narrow streets
–The Tannery – to get to this place you need to come to one of the nearby shops which have balconies out over the Tannery, of course everyone will say that you have to buy something because they let you go up in their balcony, but believe me you are not obliged to buy anything if you don't want. The smell was not so insupportable  as many people described, but just in case we were holding bunch of mint. Btw there are two tanneries, small and big one, the biggest one was closed, because was under renovation.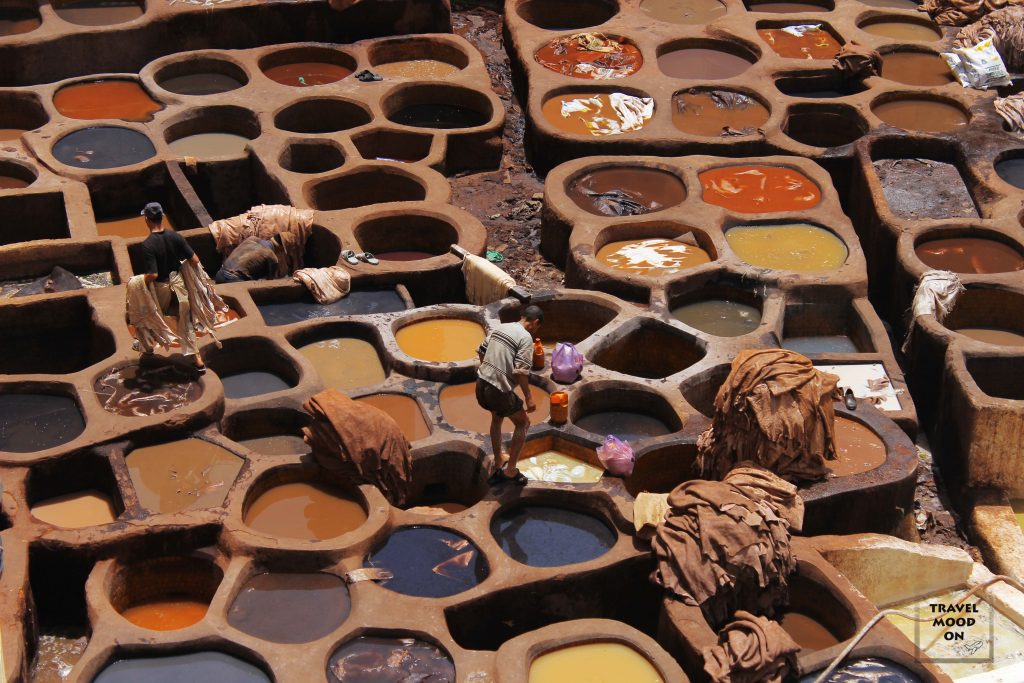 –Henna market -the henna costs around 1.50 euro, if you want to make temporary henna tattoo they will ask you 70/100 dihrams, but that is price for tourists, try to bargain and to arrive around 20-30 dihrams, because that is the real price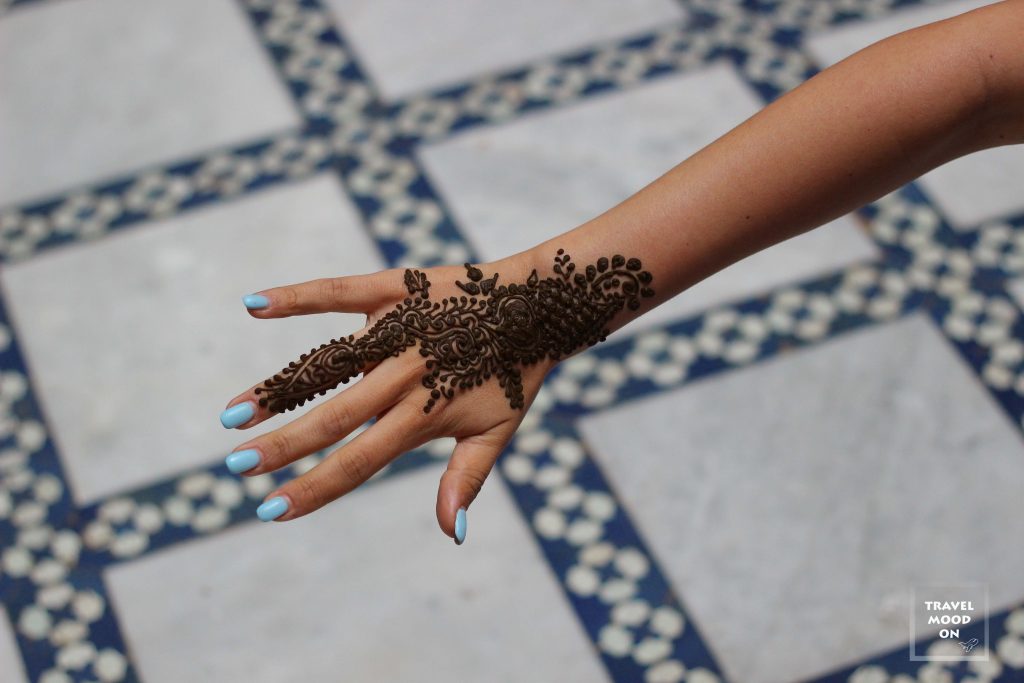 –Madrasa – the school where people study the islamic religion, the entrance is forbidden for non muslims
–The University Al Quaraouiyine – the oldest University in the world, you cannot enter if not muslim
–The bronze square – here you will see a bunch of shops and local artisans who are working on different bronze things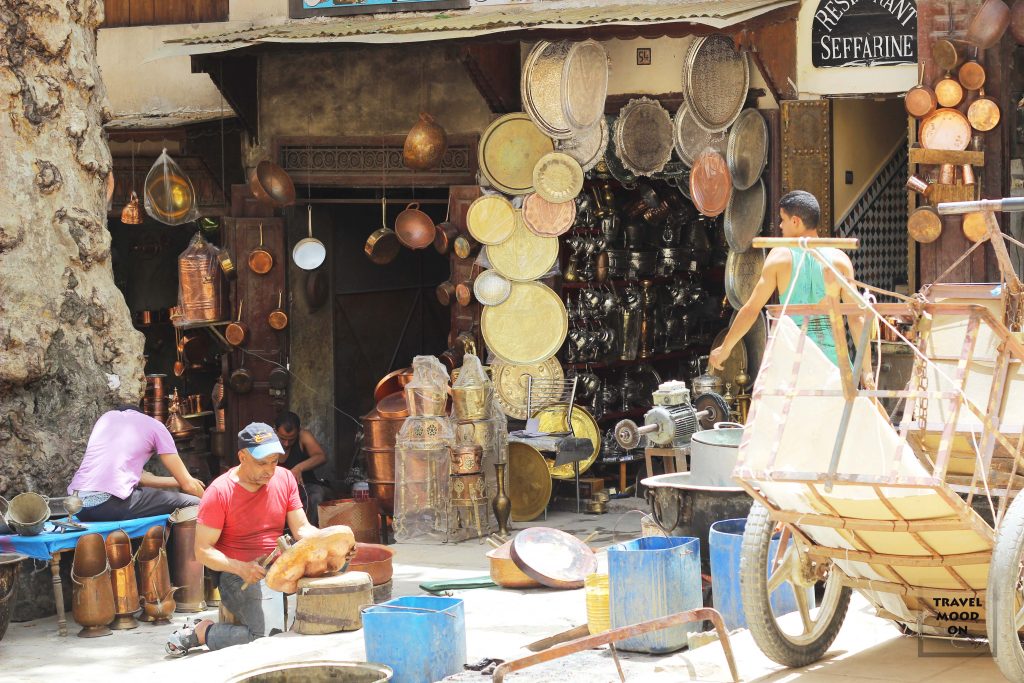 –Water clock– the clock that runs on water, next to the clock there is a coffee bar with the same name and is definitely worth to have some tea or coffee there, the place has few floors and is decorated in a very traditional style, really worth a visit. 
–The Royal Palace – a little bit out of town, but it is a private property and it's not possible to go inside. Due to lack of time we couldn't go and see it from outside
–The Italian Ducci Foundation–we found this place by accident because it was next to our Riad. It is an Italian foundation that works as a restaurant and a place where many often they held various events, such as exhibitions and concerts. The place is in traditional moroccan style, with a big fountain/pool in the middle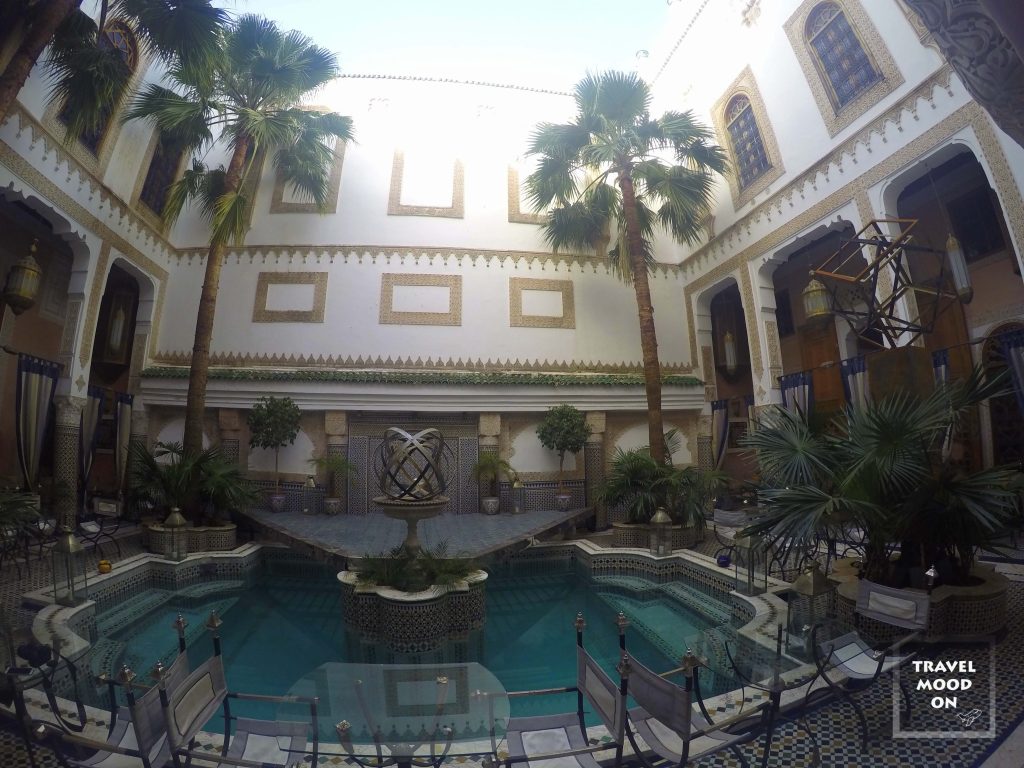 What to eat:
–Bastilla – It is a meat pie made of squab  (fledgling pigeons). As squabs are often hard to get, shredded chicken is more often used today; bastilla can also use fish as a filling. 
–Kuskus– there are various kinds of couscous – vegetarian, chicken etc.
–Lamb with caramelized fruits
–Chicken with lemon
–Different kind of bread, really yummy bread
–Moroccan salad – tomatoes, cucumber and green pepper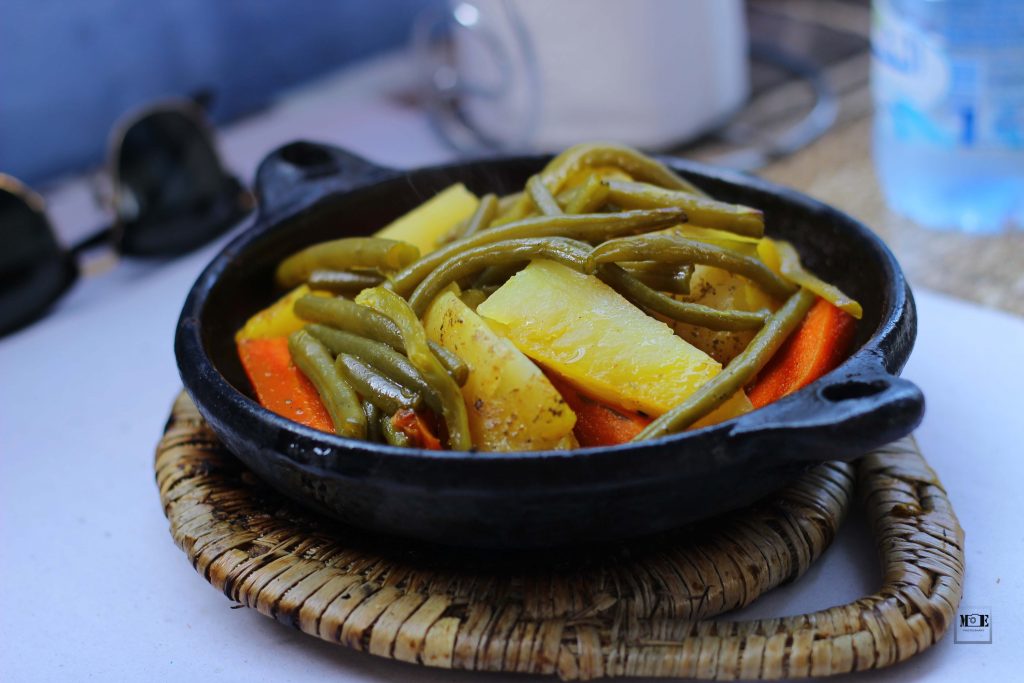 What to buy:
-Leather bag, jacket, belt – you must bargain because prices are almost double or triple than real price
-Spices
-Ceramic ornaments
-Colorful carpets
-Lamps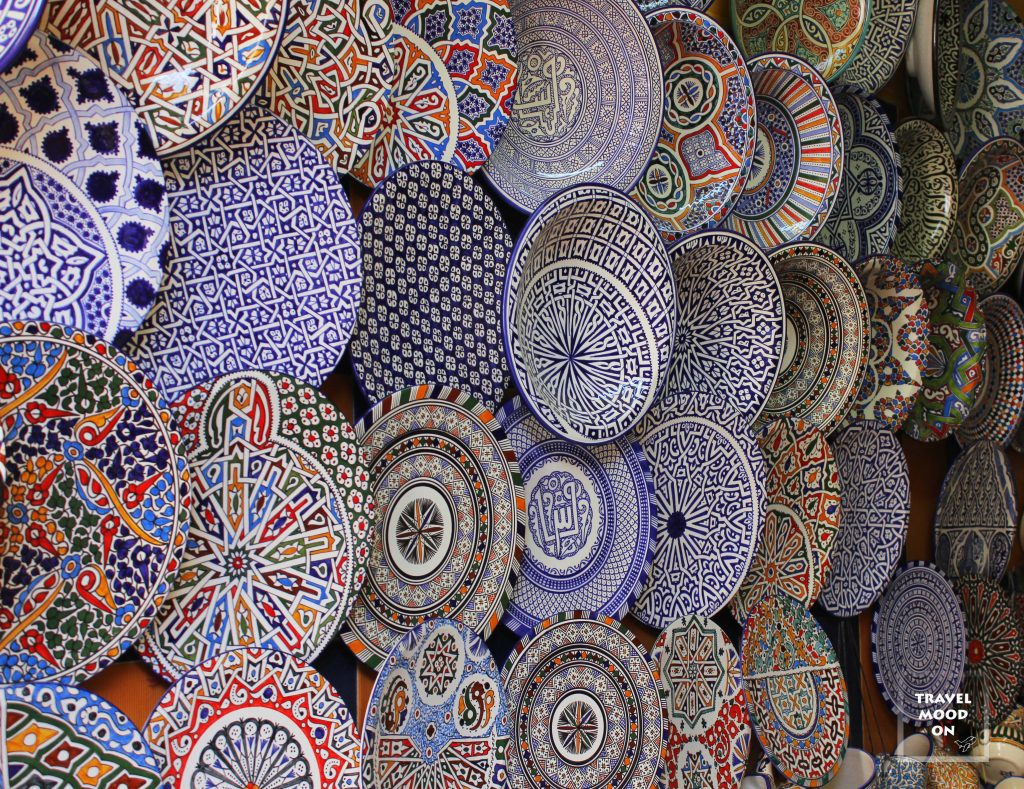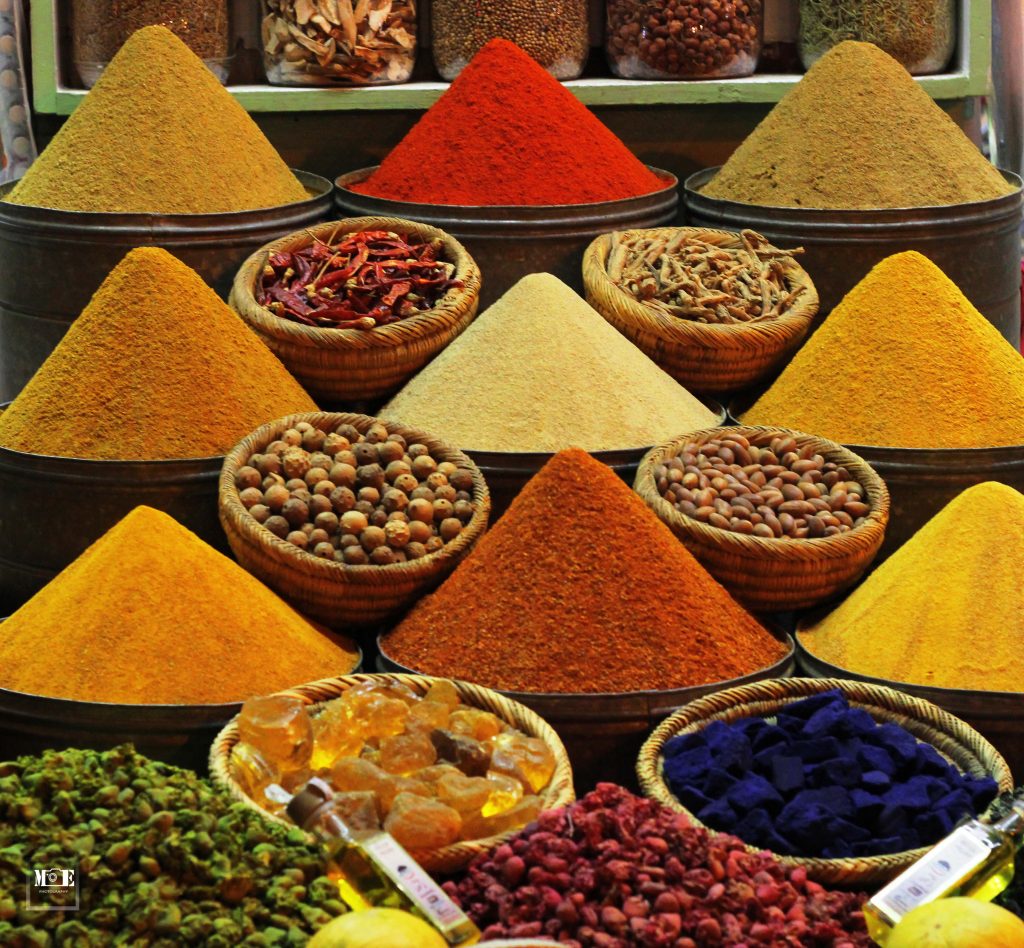 Where to sleep:
In Fez you can choose to stay in one of the many Riad. Riad is a traditional moroccan house, and very often they are working as a hotels. They have big patio with mosaics and fountains. The rooms are large and usually every Riad has a panoramic roof top. Most of the Riads in Fez preserved their original appearance and many of them don't have fountains and pools, they are the same like they were in the past
My recommendation is Riad Yamanda – staff is always at your disposal, the rooms are large and clean, good position and easy to find, located in the Medina, next to the square Batha from where you can catch a taxi or bus to move in another part of town. The Riad has 9 rooms and a great panoramic terrace overlooking the whole Medina. Yummy breakfast with olives, honey, jam, various kinds of baked stuff, coffee and tea.
http://www.fezyamanda.com